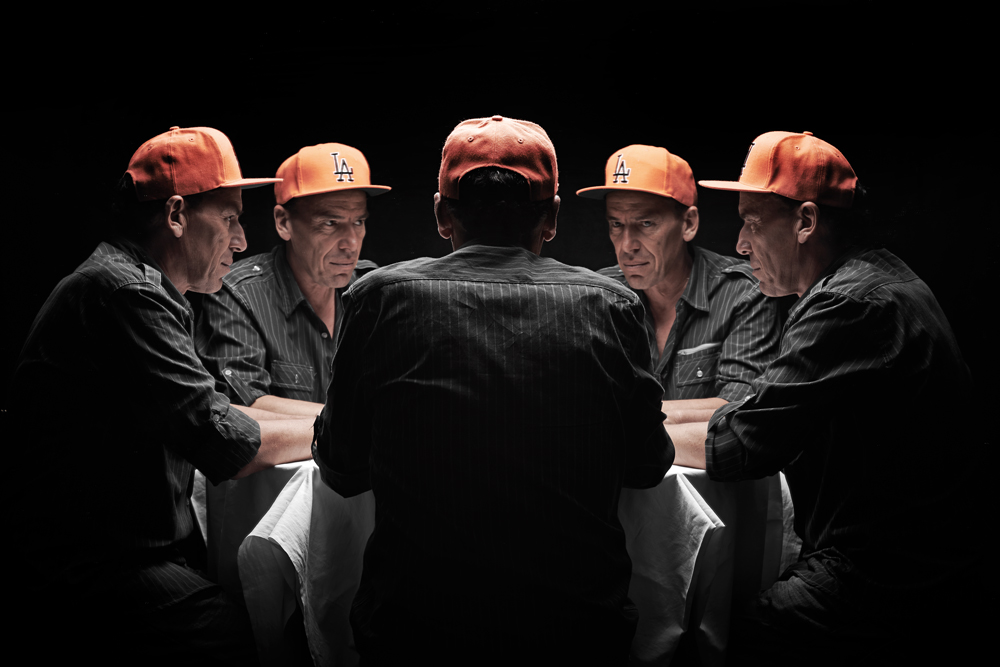 Was war heute Ihr erster Gedanke?
Aufstehen? Oder liegenbleiben? Wahnsinn oder Genie? An was will ich überhaupt noch glauben? Brauchen wir Glauben? Und wieso sehe ich in Bern nie tote Vögel auf der Straße? In Los Angeles war das anders. Da gab es Road Kill überall!
Are you serious?
Very serious … to the point that people think I am lying or making fun of them.
Los Angeles oder Berlin?
Ich liebe L.A., weil die Stadtwüste und ihre Menschen immer noch so teuflisch schwierig zu »lesen« sind. Berlin ist mir zu soft geworden. Vielleicht fehlen dort die wirklich kranken Köpfe.
John McEnroe or Martina Navratilova?
Borg was my guy. But then I realized that McEnroe was the smart one. And Borg's image of the iceman
was just a sign of dullness. That was very disappointing. When I was 16, I thought Navratilova really looked hot. But I was afraid to tell that to anyone.
A question to which "yes" is always your answer?
Want to play some basketball, one-on-one?
Fahren oder Schwimmen?
Fahren. Der Blick durch die Windschutzscheibe bedeutet Kino, ein Raum, in dem fantastische Ideen zu Realitäten werden. Mit Nina hatte ich immer die schönsten Gespräche beim Fahren. Es floss einfach so aus uns heraus, und es gab kein Entkommen im Wagen.
What is the problem with solutions?
Everybody seems to be happy with solutions. Not me. I love chaos. My belief system tells me: only conflicts, disfunctionality, troublemakers like me, scandals, and more drive us forward, create progress …
Was macht Sie verrückt?
Stress. Zeitdruck. Arbeiten.
Blind or deaf?
Deaf … but nothing against blindness!
Welche Götter?
Film-Regisseure waren für mich Götter. Jedenfalls jene Autorenfilmer, wie man sie damals noch nannte, die an einer neuen Filmsprache arbeiteten.
Is it true?
No idea.
Wann werden Sie rot?
Wenn ich gelobt werde, für gute Eigenschaften, die ich eigentlich auf gar keinen Fall preisgeben wollte.
Your favorite image?
That scene in Stranger than Paradise by Jim Jarmusch when John Lurie and his friends stand at an empty beach, all is grey around them, and they reach a point of existential boredom. I like that human condition, and I think the deeper you can sink into nothingness the deeper you can dig into great ideas …
Vor was fürchten Sie sich?
Abgründe. Ich habe schreckliche Höhenangst. Dabei bin ich ein waghalsiger Skifahrer. Sobald ich auf
Ski stehe, bin ich mutig und wage mich an die brutalsten Steilhänge. Aber ich kann nicht von Hochhäusern runterschauen.
Please complete the following sentence:
As he looked at her…
… she hesitated for a moment. But it was crystal clear that they belonged together … forever.

Where is your center of gravity?
Kreativität.
Wer schützt Sie vor sich selbst?
Manchmal Freunde. Aber in erster Linie das zweite »Ich«, das man sich erhalten hat.
What does "home" mean?
Eine Wüste.
In die Zukunft schauend, was sehen Sie?
Mehr Autoverfolgungsfahrten. Mehr Selbsthilfegruppen für UFO-Entführungsopfer.
Eine Ehrenmedaille für meine literarischen Leistungen als Pionier im Zeitalter der alternativen Fakten.
Noch mehr Menschen, die in der Porno-Industrie arbeiten. Mehr streunende Tiere auf deutschen Straßen.
Remembering, what do you hear?
Beach Boys, Pet Sounds.
Die Stimme meines Vaters, der mir erklärt hat, dass man sich nicht neu erfinden könne. Niemals.
Man bleibe immer derjenige, als der man geboren wurde. Und wer was anderes erzählt, lügt.
Apfel oder Zitrone?
Pink Lady.
What should happen after death?
I want to be pulled into a vortex of...